Habs Feature | NHL, Montreal Canadiens, Prospects, Jared Davidson, Cedrick Guindon, Sean Farrell, Adam Engström, Logan Mailloux, Jayden Struble, Riley Kidney, Joshua Roy
ROCKET SPORTS MEDIA | MONTREAL, QC. — The Canadiens have won four of their past 16 games earning just nine points in the past month. They rank as the last team in the Atlantic division and 15th in the Eastern Conference.
With games coming against teams looking to make a playoff push, like the Winnipeg Jets, the Toronto Maple Leafs, and the Boston Bruins, it's hard to see how the Habs will improve in the standings. Therefore, I don't believe that fans can look forward to many wins in the coming weeks and months.
This was to be expected, however. The Canadiens are a young team with a young coach missing their number one goaltender in Carey Price. Kent Hughes might not admit it, but the team is in a full rebuild.
What this means is that the won-loss record isn't what the fans should be focused on, in my opinion. Instead, they could pay attention to young players and prospects in the organization. This includes players like Juraj Slafkovsky, Joshua Roy, Owen Beck and Filip Mesar.
But fans should also pay attention to prospects who aren't getting as much attention. In this article, I present three quality prospects that should be followed more closely.
Jared Davidson
For frequent listeners of the Canadiens Connection Podcast, Jared Davidson is a player they have already heard about. This is so because he has been one of the top-scoring Canadiens prospect in the CHL for the past few weeks.
So far, he has 21 goals, 33 assists for a total of 53 points in 35 games with the Seattle Thunderbirds. The only other Habs prospect with a higher point total this year in Canadian junior hockey is Riley Kidney.
Davidson was drafted in the fifth round as an overager in last year's draft. The centre is 5-foot-11-inches tall and 179 pounds. According to Corey Pronman's analysis of the Canadiens' 2022 NHL Draft picks, Davidson is highly skilled, can make plays, and competes well.
After the 2022 draft, Nick Bobrov said that "[Davidson] scores from different positions. He's got a very interesting shot, he's physical, he's relentless, he's the type of player that you imagine playing in the Stanley Cup Playoffs because that's the brand that he brings."
The future will tell what kind of player Davidson will become. One thing is sure though, he is a player to follow and watch more closely.
Cedrick Guindon
Cedrick Guindon is another late-round pick from the 2022 draft. He was the Canadiens' 127th selection in the fourth round.
The 18-year-old left-wing is described by Pronman as a very good skater, with skill and a quality shot.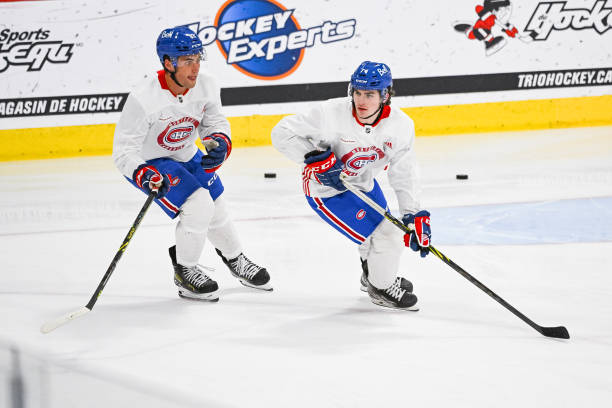 At 5-feet-10-inches tall, he lacks size. However, according to Martin Lapointe, Director of amateur scouting, Guidon is very talented and "he can read plays very well."
This year with the Owen Sound Attack, he has 14 goals and 48 points in 39 games. That makes him one of the offensive leaders of his team. But Guindon is not a one-sided player. He is also plays well in his own zone and on his team's penalty kill.
In a recent article, Arpon Basu raised the name of a current Canadien, Paul Byron. On the surface, both are fast, have a small frame, and can be defensively  responsible.
Guindon told the Athletic, "If I can reach my full potential, I might look like the type of player he is, so that's a good source of inspiration for me."
He is still young and his future as an NHL is uncertain, but he is certainly a player to keep an eye on.
Sean Farrell
Farrell might be a more familiar name for fans. After all, he was named the USHL's Player of the year after scoring 101 points in 53 games with the Chicago Steel in 2020-'21.
The 21-year-old has 10 goals and 15 assists in 17 games this season for Harvard University. His 1.47 points per game average is fourth best in the NCAA. This is very impressive considering Farrell was a fourth-round pick by the Canadiens in 2022.
Farrell also performed well with the United States national team at both the Olympics and the World Cup in 2022. He scored six points in four games at the Olympics and added six points in ten games at the World Cup.
In his 2022 Pipeline Rankings, Pronman describes Farrell as a player with very good offensive skills. According to Pronman, "Everywhere [Farrell] goes he scores and coaches trust him in various situations, so I could buy him having a real shot to be a bottom-six winger with a chance at more."
What a shot by Sean Farrell and Harvard leads 2-0 at New Hampshire! #GoCrimson

WATCH: https://t.co/WOtIqUPCr9 pic.twitter.com/wWVcyHpNJk

— Harvard Athletics (@harvardcrimson) November 16, 2022
In last week's episode of the Canadiens Connection Podcast, it was also noted that Farrell has a 3.8 win share score, top-six in the NCAA.
The win share score quantifies the number of wins created by an individual player. A higher score means the player has more impact on his team's success. Therefore, Farrell is an  impactful player in the NCAA.
There is concern about Farrell's size, who is listed at 5-foot-8-inches tall and 174 pounds. However, the NHL has changed in the past couple of years and small players are showing that they can have success.
If he continues progressing, Farrell will be one of them and will have an impact with the Habs.
Deep and talented pipeline
Davidson, Guindon, and Farrell are three talented prospects. They don't receive a lot of media coverage because the Canadiens have a plethora of good prospects.
What's more, I could write many more articles about intriguing Habs prospects. Adam Engström, Logan Mailloux, and Jayden Struble, among others, are also among the good prospects in the organization
With the trade deadline and the draft coming later this year, other names will be added to the team's prospect pool. This is a great sign for the Canadiens, as they are in the process of a youth movement.
By having promising prospects and young players in the organization, the Habs can aspire to become a Stanley cup contender in the future. Nevertheless, they need to develop these players and make sure they are surrounded by good coaches and teammates.
Listen to the Canadiens Connection podcast
It's time for our mid-season report and grades. Who was the best, worst, biggest surprise, biggest disappointment? And how are we doing with our pre-season predictions?
Here's a brand new episode of the Canadiens Connection podcast!
Listen in the player below, share and subscribe!
By Gustave Pinault-Masson, Staff Writer
All Habs Hockey Magazine
Copyright © 2022 Rocket Sports